Odessa Singles Tour Vacations
Experience the excitement of our Odessa singles tour! Take part of the indulging socials, alongside meeting a number of lovely Odessa women for marriage. Grab this opportunity now and don't forget to subscribe. For more details regarding our Odessa singles tour vacations, please see the details below.
---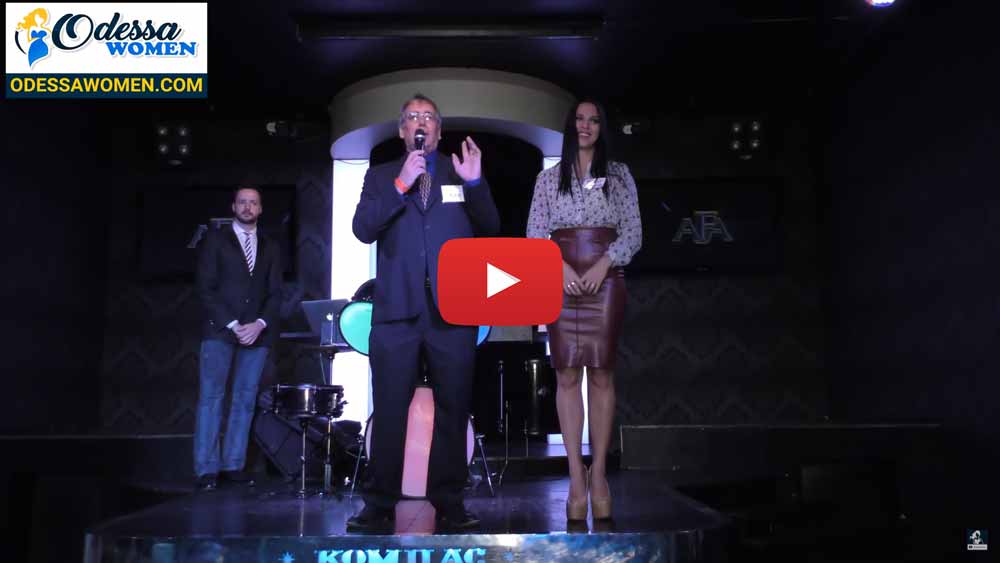 ---
If you are truly serious about meeting hundreds of beautiful, sincere women in order to find that special one, then our exciting Singles Tour to Odessa and "The Black Sea Region", anchored by Odessa, and complimented by the beautiful cities of Nikolaev and Kherson, is your answer.
The Odessa tour is unique in that it's actually a three-city tour, priced as a single city tour. No other tour company offers anything similar. We will arrive in the beautiful city of Odessa where you will enjoy the first Social. after three days in Odessa we take a short bus ride to Nikolaev, known as the "City of Brides" where you will experience your second Social. After two more days we take an even shorter ride to Kherson where you will enjoy your third and final Social. After an overnight stay in Kherson the tour will proceed back to Odessa, however since we have full support in both Nikolaev and Kherson you are more than welcome to stay in either location and return to Odessa at a later date.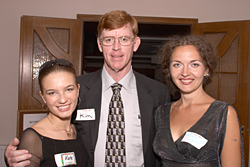 The large Socials are very tastefully done and give you the opportunity to meet literally hundreds of these stunning women in a fun, effective and efficient manner.
The three cities are just a few hours from each other, allowing for easy travel between them. By arranging the tour in this fashion we provide you with the opportunity to explore the three cities and meet the beautiful women who inhabit them.
In addition to our large Social gatherings, we provide opportunities for you to meet as many women as possible with One-on-One Introductions via our Odessa office, and the numerous Profiles on file there.
Although these cities have much to offer, Odessa is where the group will be spending the majority of their time. Odessa is home to many beautiful and historic churches and monuments, not to mention the many museums and architectural marvels. You will also discover a flourishing theatre life: there are seven theatres, a philharmonic orchestra, circus, and opera and ballet hall. There is never a shortage of date ideas, the women of Odessa are very proud of their city and serve as excellent tour guides. Visit our Odessa Photogallery to see some of the beautiful places. A Singles Tour to Odessa and its sister cities, Kherson & Nikolaev, is a once in a lifetime opportunity, an opportunity that just may change your life forever!
THE "SINGLES TRIP" INCLUDES:
Socials - One social for every city (All one city tours include 2 socials. Two city tours will include two Socials (one each city;) and three city tours will include three Socials etc.) Socials include unlimited contacts/introductions, personal interpreters hors d'oeuvres, refreshments, champagne. Unlimited Introductions from our Hospitality Suite staff during tour dates with women from our database as well as new women who are not yet on the internet. Interpreters available in the Hospitality Suite from 9am to 9pm. Personal interpreters provided free of charge during the social and in the Hospitality Suite. Ongoing Hospitality Service with translators and staff to assist with any logistics, advice, or any needs you may have.
Hotel accommodations, including free daily breakfast and other amenities.
Transport from airport, hotel, & all AFA events including Socials where necessary.
One three-hour guided tour of the first city.
Hotel area and orientation walking tours of all cities.
Free 1 month Platinum Membership A $95.00 value!
Free Fiancee Visa Kit (for U.S. residents only) $89.50 value.
Our clients say:
Hi all at AFA!

I wanted to send this note to really thank all of you for making my first AFA tour a wonderful experience and quite possibly a great success with respect to finding a fantastic lady in Nikolaev -- we are corresponding via email, phone and skype right now and perhaps I will go back very soon to make a formal engagement, meet the parents and get immigration paperwork started...

I especially wanted to thank Michael Harrison, our tour leader. Mike made this trip, my first, a truly rewarding one. Mike made sure everyone was taken care of, made sure flight arrangements and hotel arrangements went smoothly and was always looking out for each one of us every step of the way. He was always available to us even when it seemed like he might be swamped with requests for date arrangements, securing an interpreter or rounding us all up to make the next bus trip to the next destination. Even when some of us diverted from the tour schedule, Mike made it a point to stay in contact with each of us, not only for details to meet back for the flight back to the states, but to know how things were going with our potential love connections. Mike was truly interested in our personal lives though this experience as well. I can say that I made a few new and great friends on this trip, and Mike Harrison is certainly one of them. I would recommend AFA and Mike as a tour leader to anyone interested in exploring the world of a foreign Singles!

Sincerely,
Rob L.
Hey Peter, Hope you made it back alight! I gotta tell ya, man ... No one here understands the withdrawals I'm going through .... the place (and, of course) the women are like a drug. You know. I feel now like you are a brother of sorts, kind of like Band of Brothers, just on the other end of the spectrum. Bob Fisher was right, he said and I quote, : "As soon as you touchdown in Vienna, you'll say; oh, what the @#%&!" And that phrase was the first thought in my head when I did.

Thanks to you and the Odessa AFA staff, I could not have created a better vacation even with my twisted mind :) Mere words cannot describe the affection I have aquired for the city, the country and the people themselves. I really feel as if (this might sound gay, but it's true) I left a big piece of my heart there. I dream of nothing more than going back! Frequent memories of the dinners, the commradary, of course, the Singles all invade my day to day thoughts. In fact, the first thing I did on Monday was order Rosetta Stone for Russian. True, there is no hope for me, I should just move there ......

Really, I want to thank most of all, you. Doing something like this from the start is a little out of my character but you made me and I think all of us feel welcome, relaxed and helped us all have a good time. I especially liked your finesse when we sat wtih Marina, telling her about the bus ride and how I couldn't wait to get back to Odessa to see her. Nice Man! I owe ya. Also, thanks for inviting us to Max's b-day party. Another fun night, never to be forgotten. I guess that is what this letter is .... I could ramble for hours about the fun and laughs I had , but really, this letter is for you.

Thanks Peter. You deserve all the best!

I toast you and AFA for providing such an invaluable invitation to fun and love .... Salute!

On a personal note: Like I've said many times; I went for the party, but got something way better than I could have ever expected! Marina and I speak at least once a day, we write each other via e-mail as much and I'm planning a trip back in January. This girl is absolutely incredible. I have my travel clock still set at Odessa time, around 8 or 9 her time, I'll wonder how she is and then hear the phone ring. I walk around all day thinking of her, her smile and how much, unlike her American counterparts, I have complete trust and faith in her. Whenever I call, I can just hear the excitment in her voice and really that's all I ever need! Much of this I owe to you and AFA. There is some of me in there, of course, but still ... I'd like to buy you guys a round sometime. Thanks again ... let me know if you get this and keep in touch

Take care, Paul
Hello,

I returned from the July 18 Odessa, Nikolaev, and Kherson tour today. I want to take a few minutes to thank you. I know we paid for the tour, but I still want to thank you. The reason is because you ( Peter, Steve, Elena Redburn, Max, Nodia, Helen, and others ) did not look at the clients as typical company employees do, but took time and interest to see that all our interests from questions and problems, to advise were taken care of. We were never rushed or put off as most companies do. Your company is exceptional in doing business. It functions as a company should, and I would rate your company as one of the Top Five in the World. Please use me as a reference or in any way that I may help represent the endless efforts that you and your employees commit your selves to for the success of your customers. By the way, I enjoyed the trip as the best time of my life, and it was due to your efforts and the screening and selection of all your male and female clients. The Hotels had! a commendable staff. Don't forget to compliment the bus driver. He was courteous, professional, safe, and helpful, just as all others in your staff. We got to depend on you so much until we really missed your staff at Vienna. It was convenient with the hotel just across the street from the airport. The Ladies were even helpful to us in resolving some travel issues with luggage and directions. The ladies were most courteous and down to earth. Personalities were of the utmost in the world. Please do consider adding one day to make two days at Kherson, even adding enough to cover the cost of the bus and driver is well worth it. Many of us wanted another day, some payed more to stay than it would have costed added in the trip, and there would be more success because of the number of serious and committed women in Kherson. Please feel free to contact me for any reference that you may want.

Melvin D. Richardson

More tour testimonials